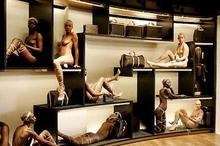 With the release of the 2012 financial reports of LVMH and PPR, two major luxury goods groups, a new signal that is clearly different from the past in the Chinese market has been released: to fully inhibit expansion and protect the image of luxury goods. At the same time, Burberry and Richemont (R&F Group) also followed suit that they will slow down their expansion in China.
This is a 360-degree shift in marketing strategy in China for Gucci, which has more than 460 stores in 50 countries, even Louis Vuitton, which has opened flagship stores in Inner Mongolia, China, and Gucci, which once proudly dominated the core of second-tier cities. As an old rival, Bernard Arnualt (LVMH**) and Fran ois-Henri Pinault (PPR**) are also unaware of their mistakes: Chinese consumers are so conscious of the luxury spirit that they There is no longer any fanaticism about the blooming brands.
Bernard Arnualt, known for aggressive expansion, claimed that the way of attacking the Chinese market has changed, and promised that Louis Vuitton will reject the temptation of second-tier and third-tier Chinese cities who still pursue LOGO and less expensive products, even if their 2013 economic growth is expected to reach 8 %. As analysts have said, Louis Vuitton's decline in sales for several consecutive quarters has led Bernard Arnualt to find "commonplace" image damage to the brand. The "Louis Vuitton House", which was refurbished in Shanghai in the past, is now taking on more advanced custom leather goods and providing personalized services to the top VIP.
And opening up stores and focusing on high-end products is also a new strategy for Fran ois-Henri Pinault to treat Gucci. Gucci, which accounts for nearly 60% of PPR's profits, once benefited from the "grocery-order" type of rapid-growing business model that meets retailers and marketing needs, but now they are facing mainstream urban elite consumers (such as Shanghai and Beijing) and luxury goods. Still feel the increasing market disagreements between the new second-tier cities and consumers.
Gucci's approach is to provide entry-level leather goods and accessories before the complete introduction of the clothing line in the new location, and then introduce the high-end line when the consumer tastes mature. However, compared with other markets, Chinese consumers have shown that their taste has grown faster than they expected. Gucci will not open new stores in China in 2013. Instead, Gucci will refurbish and expand existing stores. Pinault further stated that implementing two business models in the same country will make the brand more flexible, which is why Gucci performed well last year. Responding to an analyst's suggestion that brand stores are everywhere and that luxury goods are no longer tempting to question, Pinault said he firmly believes that developing multiple product categories is the future of luxury goods. "In the past few years, Gucci children's clothing The line has been very successful, but it has yet to be developed in other markets (such as China). We will also appropriately amplify ready-to-wear components in our previous product portfolio with leather accessories." So, the two major luxury goods groups are frantically setting up shop in China's second and third tier cities. The era of expansion finally came to an end.
Interestingly, Bottega Veneta, which has seen a large increase in PPR's 2012 financial report, decided to accelerate its expansion in Europe. For example, this year it will open a 1,000-square-meter brand in the world's largest boutique in Milan, far exceeding its average of 140 square meters. Ordinary store area. CEO Marco Bizzarri believes that consumers from emerging markets (including China), especially tourists, are more likely to purchase brands that have stores in major European cities without compromising the luxury image and status of luxury goods. This coincides with Chanel's consistent strategy, as Bruno Pavlovksy, president of its clothing division, put it, "
"We don't like big facades, and we don't like to shop around." But "opening shop" does not mean stopping the expansion, but instead shifting the battlefield to a platform that is more mature, more lasting, and more profitable. After everyone has a Louis Vuitton checkered handbag, it's time to start a haute couture business and get forward-looking consumers to put the new season clothing on the street.
Causual Wear,Casual Wear For Women,Casual Wear For Men,Casual Suit
Shijiazhuang Damei Co., Ltd. , https://www.dameijacket.com