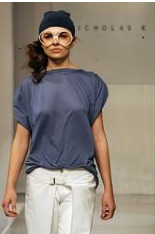 Under the enchanting blue stage lighting, more than 10 models, about 1 meter 8 in size, were dressed in different styles of fashion. They performed on the catwalk and each of their clothes was airlifted from New York to Chengdu last week. Here, 2013 New York Fashion Week will release the latest series of fashion for the world. Yesterday, three fashion shows were held in Chengdu Qunguang Square. The show was less than 100 square meters, and hundreds of people came to appreciate it.
This is a rare fashion feast. Last week, more than 10 designers packed their 2013 spring and summer new clothes carefully, and they were airlifted from New York to Chengdu. The value of each piece of clothes was in the thousands.
Designer Jamil Khansa was concerned about the few diamond evening dresses he had just designed. Hesitated again and again. He decided not to fly by air but took it with him to Chengdu. At 5 pm yesterday, Jamil Khansa directed the model to dress and walk in the background. "He is very serious and cares about the performance of the stage." A friend of Jamil Khansa told reporters that the clothing designed by Jamil Khansa had a minimum price of 30,000 yuan. Yuan, "Customized prices will be higher."
The brand designer Nicholas K's designers are two Chinese and German mixed brothers and sisters, their clothing is the main retro style, the New York Fashion Week's first catwalk show their clothes. Simple lines, plain tones, retro style show a lot of fashion. Maggie Norris showed her new style of chivalry dress, elegant and dignified, full of aristocratic atmosphere. The staff introduced that the clothes she designed were worth about 1 million yuan each.
In addition, the students of Sichuan Normal University's Fashion Design Institute also showed local designers' cheongsam costumes on the show floor, welcoming live art enthusiasts.
"Chengdu people's color matching of clothing is very distinctive. I like it very much." Jay Calderin, the general director of the fashion week, told reporters that he came to Chengdu twice this year and he was impressed by the costumes of Chengdu people. "Look at the catwalk," he said. Especially after visiting Sichuan Qianxiu, he thought that this ancient costume element could be better combined with fashion clothes. The finale on the afternoon of the 19th shows the work of eight designers who designed specifically for embroidery.
This fashion week was co-hosted by Chengdu Youlu International Fashion Culture Co., Ltd. and Huaxi Metropolis Daily. Chengdu Youlu International Fashion Culture Co., Ltd. and Chengdu Centennial Chunxi Construction Investment Co., Ltd. jointly organized the event. Today, the event will host the 2012 International Fashion Industry Summit.
Our company spent much money and time in developing this mould, which is bringing from Japan. Many company used this kinds of Hang Tag String to save the assemble worker's time. The mould is very complicated.
The advantages are as following.

1. the technology is from Japan, but 1/4 price of Japan, we spent more than USD 100000 in developing the mould.
2.the tags are popular with famous brand such as Zara, Maximo Dutti, Oshio, Calvin Klein,Uterke and so on
3. Cos they are assembled by tool, regular seal tags are assembled by manpower, new design can save bulk manpower and packing cost,speed up the packing process.
4.this is environment protection design, regular seal tags bring bulk waste of plastic.
5. the order quantity of this tag for famous brand is usually 1000000 pcs/ time. If you are importors, this is new business and good profits products, welcome you to be our distributor or agent.
6.free samples, full technology support to you to test the markets.
hang tag string,tag fastener,fasbanok string tag, fasbanok loop,fastanok tag fastener
BY TRIMS CO.; LIMITED , https://www.sealtags.com