Launched by the world famous celebrity magazine "OK! Wonderful", the British fashion brand XXEZZ full glory presented "I'm OK! Girl followed the star dress National Challenge" a few days ago wonderful start. As the world's largest celebrity well-known celebrity magazine, "OK! Wonderful" heavy launch of this event is designed to focus on star celebrity dress example, setting off a new wave of popular wear nationwide.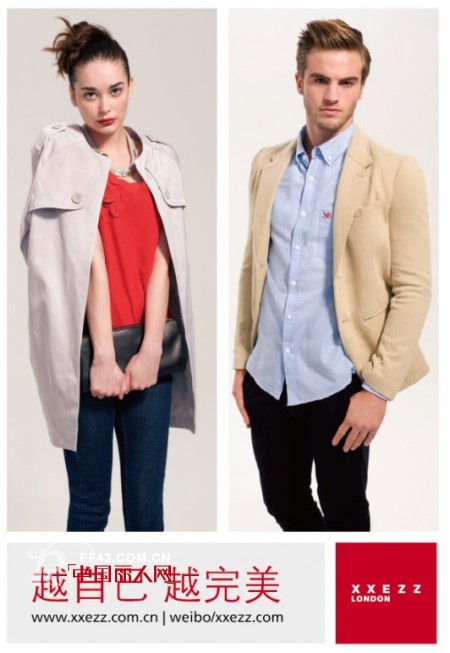 "OK! Wonderful" As a celebrity fashion magazine that advocates socialization and sharing, from red carpet to social, from the party to the street, in-depth subtle net global hot star fashion outfit, fully embodies the real light fashion culture With high quality celebrity fashion style. The planned "follow the star dress" theme activities, eager to find the same glitz star, bright shiny OK! Girl, they are concerned about the star dress, they love to wear fashion, they are willing to share, emphasize the real wear And the power of texture, so that fashion is full of color and positive energy. The overall name of the event The British fashion brand XXEZZ stems from the British-style and Italian Slim cut, combined with the essence of Britain and Italy, interesting, innovative and diversified design makes XXEZZ a fresh and prominent brand, also runs through The whole field of OK! Girl wear fairy children fashion frontier spirit.
The first "XXEZZ I'm OK! Girl to learn from the star dress National Challenge" aims to focus on fashion gathering in China, starting from the ancient capital of Xi'an in a hundred years, after Chongqing, Wuhan and other cities of the four major selection, and ultimately return to Beijing, Brilliant brilliant all the way to capture the beautiful fashion girls wear the best fashion moment. Activities throughout the hairstyle sponsored by Sebastian and the National Salon portrait support. The event designated the Internet platform for the QQ space, microblogging depth partner for Tencent microblogging. Wireless new media strategic partner for viva. It is reported that the four major challenge channel has been opened all the channels, September 15, the first stop of Xi'an Top Division Challenge Division wonderful bloom! Welcome to register by: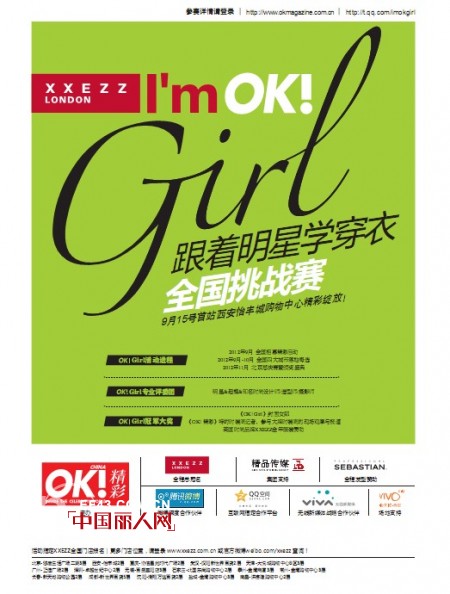 1, "OK! Wonderful" official website: http://
2, microblogging application:
Personal clear body frontal and name, ID number, height, weight, contact phone and other real information, send a private letter to:
Tencent and Sina microblogging @ I was OKgirl
3, QQ space Registration Area: Search "I 'M OK! Girl" space
http://user.qzone.qq.com/1474616139
After the registration is successful, all the above applicants reply to the national XXEZZ store for try-on and take photos with the event official blog private letter, but also register for free as a brand VIP and receive a brand OK! Girl exclusive mystery gift! Enjoy 10% discount and bonus points throughout the year! (All successful applicants only receive a gift shop, can not be repeated to receive)
4, XXEZZ store registration:
Where to XXEZZ store registration, try on the brand clothing and OK! Magazine photo shoot, upload Tencent or Sina microblogging + sun photo [email protected] I am [email protected] official website, fill in the store VIP information, you can receive a brand offer Mysterious gift! At the same time, can enjoy 10% discount and reward points!
The CVC sateen stripe fabric is a CVC Sateen Fabric with stripes of different widths. Our normal Cvc Sateen Stripe Fabric is T/C 25/75 4mm sateen stripe fabric, T/C 50/50 1cm sateen stripe fabric, T/C 25/75 2cm sateen stripe fabric and T/C 50/50 3Cm Sateen Stripe Fabric. Because it is woven by polycotton yarns, the CVC sateen stripe fabric is strong, wrinkle and tear-resistant, and reduce shrinkage. There is CVC sateen stripe bleached fabric, Cvc Sateen Stripe Dyed Fabric and CVC sateen stripe printed fabric.
Our company, Shijiazhuang Guangda Textile Co., Ltd mainly weaves the CVC sateen stripe fabric using 30s-120s yarns, from 200T to 1000T, in 183cm, 250cm, 280cm, 300cm and 315cm width. And then we bleach or dye or print the CVC sateen stripe fabric and roll on hard paper tubes, cover with plastic bags outside then pack in woven polyester bags. We always use the CVC sateen stripe fabric to make sheets, Fitted Sheets , Duvet Covers and Pillowcase Slips for home, hotel and hospital.
CVC Sateen Stripe Fabric
Cvc Sateen Stripe Fabric,Cvc Bleached Sateen Stripe Fabric,Sateen Stripe Polycotton Fabric,Cvc Sateen Stripe Dyed Fabric
Shijiazhuang Guangda Textile Co., Ltd , https://www.bedsheeting.com