Warmly celebrate the romantic season in Anhui Bengbu underwear store opened!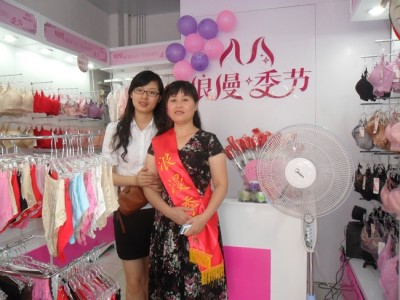 Company staff and franchisee photo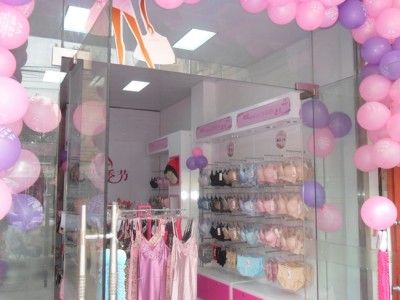 Romantic season, the Shanghai Finley Industrial Co., Ltd. underwear chain brand. Romantic season set research and development, production, warehousing logistics, sales and operations in one, mainly to the sale of comfortable underwear-based modern underwear brand, is committed to building China's leading brand of comfortable underwear. Currently, the romantic season of brand management center is located in known as China's "Oriental Pearl " of Shanghai Po East; operation center is located in the world commodity city - Yiwu, Zhejiang; R & D center in the possession of " global underwear production base, " the title of Shantou, Guangdong . In addition, the Shanghai Finlay Industrial Company also owns Zhejiang Dongyang Aegean Sea Leather Co., Ltd., Yiwu Aegean clothing materials Co., Ltd., Guangzhou èµ› force clothing materials Co., Ltd. three major subsidiaries, the company employees have reached more than 1,500 people.
" Professional from the focus, " the romantic season as an outstanding brand underwear operators, determined to become China's best underwear brand service providers. The company stands at a strategic height to value product quality. In order to ensure product quality, the company set up a special underwear designer and underwear by the Ministry of Design and Development Department. Companies continue to improve consumer service levels, in order to increase the sense of customer experience, cultivate customer loyalty, and promote the dissemination of underwear culture. The company formed a marketing technology department, franchisees to provide free marketing supervision and training services. The company always adhere to the " customer first " core philosophy, determined to let every woman can wear comfortable underwear for their own, continue to meet the various needs of consumers.
Romantic season always adhere to win-win thinking. First of all, for the win and consumer win-win situation, to provide consumers with the best quality underwear products; Second, to win and franchisee win, franchisees to provide strong support for the background; Finally, to strive for a win-win situation and staff to provide staff with good Working environment and training support. Companies adhere to the " truth-seeking, rationalization, " the core values, implemented by all staff. The company is moving forward in the direction of branding, collectivization and internationalization, and strives to become a first-class service provider of comfortable underwear brand in China.
This article is provided by the romance season underwear: http://
Choose our advantage
1.Experienced and Professional Turbocharger manufacturer over 12 years
2. Strict quality control, professional service,honest communication and S&D team
3.Wide range turbochargers, sufficient stock, timely shipment. Drop shipping available
4. OEM available, A trial order or sample orders are accepted
5. 24 hours email reply and after sale service
Agricultural Machine Supercharger
Universal Supercharger,Supercharger Machine Head,Machine Supercharger For Agricultural,Agricultural Machine Supercharger
Benxi Fengyuan Pressure Vessel Manufacturing Factory , https://www.accumulatechina.com